Uncle Joe was my favorite. To start with, every Christmas there were presents, and good ones too — not clothes or books. Later, they got even better, since Uncle Joe knew that a teenager always wants cash. Remarkably, he continued to send Christmas presents, even when I forgot to thank him, or send him a Christmas card. If Uncle Joe doted on his nieces and nephews because he didn't have kids of his own, it was fine with me.
You knew that you would have fun with Uncle Joe, because he always seemed to be doing something new and exciting. First of all, he had a boat! I remember how he and his buddy Duke Curby owned a cabin cruiser called the Bottoms Up. I never learned whether Bottoms Up was a toast or a statement about the boat, but it was fun to go out on the water with Uncle Joe. He had stories to tell about his adventures scuba diving in exotic places, and it seemed pretty cool to have a friend named 'Duke.'
Uncle Joe enjoyed a good meal, especially a steak, which meant having someone else cook. But going out to restaurants always resulted in a wresting match for the check. As kids, we knew it was coming, and would bet on whether my Dad or Joe would come away victorious. And when I got to college, it was great to know I could count on Uncle Joe's generosity to score a free meal. But as an adult, it was frustrating to never be able to to treat, so about ten years ago I hatched a plan. Judith and I were out to dinner in Naples with Phyllis and Uncle Joe. In the middle of the meal, I excused myself from the table and sought the maitre'd. I handed him my credit card and told him that I wanted to pay, but he replied: "I'm sorry sir, but it has already been handled." That was Uncle Joe!
Uncle Joe loved physical labor. Last winter, when I called him and related how I was digging a trench in my yard, he told me how he missed digging ditches! Maybe that's why he kept a prayer to St. Joseph the Worker on his desk. Part of it reads:
Glorious St. Joseph, patron to all who are devoted to toil, obtain for me the grace to toil conscientously, putting devotion to duty before my own inclinations; to labor with thankfulness and joy; to work with order, peace, moderation, and patience.
He certainly seemed to apply this to his many projects over the years: working in the barn on his boat or renovating the house on Legion Parkway. But he also enjoyed spending time with his friends down in Wareham, so he bought a lot on Mark's Cove Road so he could work near his friends. Though my young eyes only saw a stand of pine trees, Uncle Joe saw his house and set about designing it with the moderation and patience of St. Joseph the Worker. First he took his time to sit in various locations, imagining the view from each window, until a few years later his plans materialized, though it took many more years for the house to take shape. Throughout, Uncle Joe kept a small boat in Mark's Cove, to sail whenever he could, especially if a niece or nephew was available to go out with him.
But Joe was interested in more than toil, especially after meeting Phyllis at work. They shared a passion for travel, dining, and entertainment that enriched them both. They took cruises to the Orient, Europe, and through the Panama Canal. They cherished and exemplified the style and grace they experienced aboard ship. And Uncle Joe sure looked great in a tuxedo, which he wore at both the Massachussets Governor's Ball and the 2001 Presidential Inaugural Ball.
Over the years, I learned that Uncle Joe kept in contact with so many people. This was a trait that I observed at family gatherings when Uncle Joe, Aunt Anne, Uncle Ed, and my Dad would would tell stories about distant relatives and mysterious acquaintances, most of whom I didn't know and would never meet. I would sneak out of bed and crawl down the hallway to listen in the shadows to names that became woven into the fabric of my memory. Back then, I developed the impression that Uncle Joe didn't have much to say, but years later I realized how hard it was to get a word in, when Aunt Anne was in the room.
Perhaps it was losing his mother when he was less than a year old, and his step mother before he was six, that made him want to stay connected to people. If so, Joe transformed his loss into a life's work that strengthened the bonds of kinship and friendship. He demonstrated his desire to stay connected in the Navy in World War II whenever his ship made port. In Seattle, he sought out his cousin William Madden; when it docked in Manilla, he searched relentlessly until he found his brother; and after the war, he kept in touch with his shipmates.
There is no shortage of people who would attest to Joe's good nature, warm heart, and concern with others' well being. That's because he used his time to be with the people he cared about. Certainly that is the case with Aunt Anne, who cared for him as a child, lived with him as an adult, and whom Joe looked after with a devotion and kindness that is all too rare.
Although I never heard him say a harsh word about anyone, Uncle Joe was hardly naive. In talking with him over the years, I learned that he was aware of the shortcomings of his nieces, nephews, and friends (including mine). But instead of criticism, Uncle Joe offered concern, and worried that he could not do more to help us.
His was an eloquent demonstration of unconditional love for us all. We shall miss him dearly.
Joseph F. Conlon
July 10, 1926 — July 2, 2007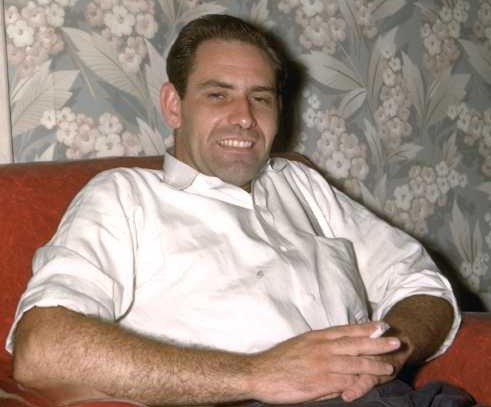 Uncle Joe in Whitman, Mass. Sept 6, 1954